Small symbols of life mean much in a post Cyclone Pam world
Families and communities in Vanuatu are rebuilding their life, two months on from Cyclone Pam. CARE Australia's Tom Perry checks in on a family he met after the initial disaster.
Two months ago, in the remote village of Imaiyo, in the far east of Vanuatu's Tanna Island, I met Marishan Magelan and her days-old baby, Angelina*.
Like many across the Pacific island nation of Vanuatu at the time, Marishan was still in shock. Cyclone Pam, the worst natural disaster to have hit the South Pacific in recorded memory had just passed. In Marishan's case, however, she was in shock both from having lived through Cyclone Pam, but also having gone through this terrifying disaster at the same as being in labour with Angelina, her first child.
Marishan's story was an extraordinary story of resilience, as was that of the members of the community who had stood outside Marishan's hut, amidst the howling wind and rain, chaos and destruction, to hold together the small hut she was in as she gave birth to baby Angelina. As I wrote at the time, it was easy to see the powerful symbolism of the remarkable birth of Angelina amidst the destruction and trauma of an event like Cyclone Pam.
Two months on, it's a huge relief to report that Marishan and baby Angelina are now recovering well. With the support of her family and community, Marishan has had rest, and the chance to gain desperately-needed strength to nurse baby Angelina to better health.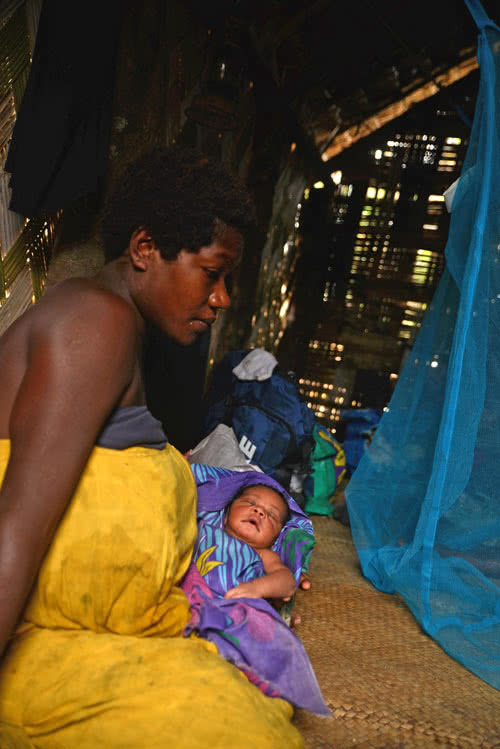 When the CARE team recently returned to remote Imaiyo village, Marishan and her husband Biki were starting to rebuild their home and their lives with newborn baby Angelina. They've been provided with relief supplies from CARE, including tarpaulins and basic healthcare support; soap, a bucket and water purification kits, which Marishan says were vital in preventing an already-weak baby Angelina from falling into sickness in her first fragile few weeks.
Marishan's focus is now on recovery and rebuilding. As it is for the rest of the Imaiyo community, for the island of Tanna, and for much of Vanuatu.
With strong support from across the world, CARE has now reached more than 13,000 people across Vanuatu's hardest-hit islands of Tanna, Erromango, Aniwa and Futuna with food, clean water and shelter materials to help communities rebuild their homes and their lives.
Working with the government of Vanuatu's Tafea Province, CARE is providing communities with building materials and training to ensure families are able to rebuild their houses to be even stronger before; to ensure that should an event of the magnitude of Cyclone Pam ever hit Vanuatu again, their homes will be more resilient.
Adam Poulter, CARE Australia's Emergency Response Manager, is currently overseeing CARE's work on Tanna. He says that for some people, life is beginning to return to normal, yet there are still many who are homeless and relying on the support of family and friends for a roof over their heads, and life is particularly tough when it rains.
Yet Adam says the smiles return quickly when the sun comes out, as does the vegetation. He adds that it's hard not to notice the symbolism of vegetation returning to what was previously a bright green island teaming with life.
"Much of the island was stripped. What was once a bright green island was turned to brown," said Adam, on Tanna Island.
"Yet now, there's just so much regrowth. Most trees were cut off at the waist, but they're now sprouting leaves and small branches. And we're seeing vegetables – cabbage, tomatoes – starting to emerge from the ground. They are small but important signs; life really is returning to this wonderful place."
* CARE is committed to being a child safe organisation. Names of children have been changed.
794 total views, 3 views today