Médecins Sans Frontières head criticises G7 for lack of urgency over Ebola
Aid donors missed a golden opportunity at the G7 summit in Germany to lay out measures for a far more vigorous response to epidemics such as the Ebola outbreak, according to Joanne Liu, the head of Médecins Sans Frontières (MSF).
"There were strong opening remarks from Angela Merkel at the G7, saying we have failed on Ebola, we take full responsibility, but at the end, the recommendations were all watered down," said Liu.
"With Ebola, there was a fear factor. In September, the world held its breath as a huge terrible threat was over our heads. That sense of urgency has been lost, and I'm concerned things will not change."
Ebola has killed more than 11,000 people in the three worst affected west African states of Sierra Leone, Guinea and Liberia since March 2014.
The World Health Organisation (WHO) did not declare the Ebola outbreak a public health emergency until August, despite 60 different chains of transmission in Guinea and warnings from MSF four months earlier.
But Liu said tackling the outbreak was not the WHO's sole responsibility. "Since the beginning I've been asking member states to show political responsibility in responding, but they didn't and I think they've been let off the hook. It's very convenient to have a scapegoat like WHO," she said.
Liu wrote to Britain's chancellor, George Osbourne, before the meeting on 7-8 June stressing how disease control is a public good, but the G7 provided no concrete solutions for fighting epidemics, and showed little will to reform the WHO, despite criticising it heavily.
Liu said countries should be rewarded rather than punished for declaring an outbreak. Low-income countries, more prone to outbreaks, are hit the hardest by political and economic sanctions such as travel bans, she added.
"If states declared earlier, the machine could move faster. But you see it everywhere, cholera in Haiti, meningitis in Niger, measles in the DRC [Democratic Republic of the Congo]. Each time we have to fight for them to declare, because they're scared of the repercussions," she said.
"I am absolutely convinced there should be financial and political incentives for states to declare. You shouldn't be the pariah of the world if you say you have Ebola, but in reality this is what happens," she said.
Liu is open to establishing a rapid response unit, proposed by health leaders ahead of the G7, with an "emergency mindset" working with an agency like the WHO to fight disease, but only if there is a paradigm shift in the way the organisation responds to outbreaks.
"In Canada, I'm an ER physician. My hospital director wouldn't ask me to visit outpatients. They know where I'm best, in ER. Similarly, I would want only people with emergency mindsets, not developmental, to do emergency response."
Ebola vaccines need to be ready before the start of the next epidemic, said Liu. However, she has reservations about measures to increase surveillance or build regional centres to test for infectious diseases.
"People have this fantasy that surveillance will help the next epidemic. The reality is, despite not having complete data, we still had enough to know that we had to scale up our response," said Liu. "But we didn't."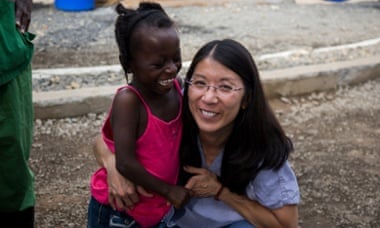 Those countries with larger economies had to be prepared to move in quickly after an outbreak and get their hands dirty on the ground, said Liu. Such a response could encourage other states to step up.
"When President Obama pledged a 25-bed facility for healthcare workers, I remember having him on the phone and saying: 'Thank you very much, that's a good start.' And it was followed by this long, awkward silence," said Liu.
She added that she told Obama: "If the world's biggest economy isn't pledging high, then who will?".
The UN's financial tracking system shows that the scale of giving among G7 states varied greatly. Italy gave 0.3% of the total Ebola budget, while the US contributed about 45% . The UK gave roughly 10%.
But, frustratingly, the $1.7bn of US funding did not reap the rewards it could have, Liu noted.
"Unlike the Cubans, the US were not ready to expose their people. So even though they opened 11 centres with 150 beds each in Liberia, they treated just 28 people, because they deployed late, and refused to staff the centres.
"Nations don't have friends, they have interests. The best motivation for a state to act if it is remote from an epidemic is if its own security is at risk.
"The downside is you keep waiting for a bigger and bigger monster to come, and by the time it hits you, it has already caused considerable damage elsewhere. As humanitarians, we can't wait that long to act," she said.
2,423 total views, 3 views today